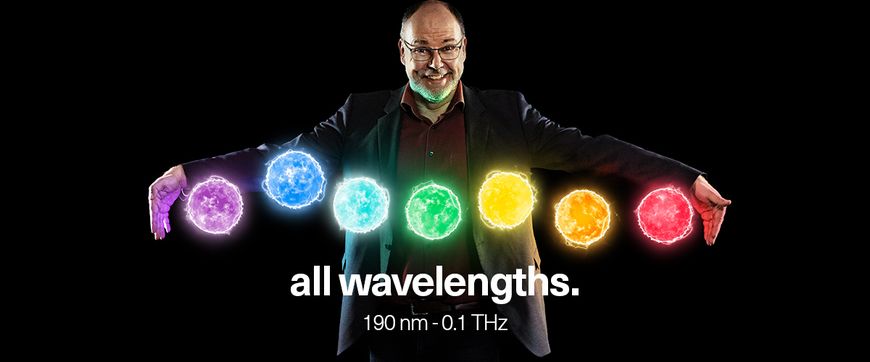 all wavelengths.
190 nm - 0.1 THz
TOPTICA's products provide an ultra-broad laser wavelength coverage: 190 nm - 0.1 THz (corresponding to 3 mm). They enable a big variety of demanding applications in quantum optics, spectroscopy, biophotonics, microscopy, test & measurement, as well as materials inspection. The unique wavelength range is based on three major product categories:
190 - 4000 nm
with frequency-conversion techniques
390 nm - 15000 nm,
(3500 nm customized) 5000 - 15000 nm
TOPTICA's pulsed fiber lasers reach pulse durations as short as 25 fs and output power levels of more than 5 W. A modular design concept with erbium- and ytterbium-doped fibers is the basis for different wavelength models (1560 / 780 nm, VIS / NIR tunable output, IR / NIR supercontinuum, broadband mid-IR).
0.1 - 6 THz (15 THz customized)
TOPTICA's single-mode diode lasers combine excellent diode technology and rock-solid opto-mechanical engineering with convenient computer-control and intelligent protection measures. They come with diffraction limited TEM00-output and reliable spectral properties, as well as optional robust fiber-coupling.
---
Additional product lines are available that further extend the number of supported applications. These innovative solutions are specifically tailored to enable sophisticated experiments in physics, biology or chemistry. They help to achieve milestones in fundamental research programs, as well as in complex industrial development projects:
More insight about the wide range of applications that are enabled with TOPTICA's lasers can be found on the poster "Laser Absorption in Physics, Chemistry & Biology". It displays the central absorption wavelengths of single atoms, semiconductors, molecular gases, molecules and fluorophores (1PE and 2PE) in the wavelength range of 190 - 3500 nm.
All indicated elements can be studied with TOPTICA's lasers. In addition, TOPTICA's product range also enables optical studies of much more elements in other wavelength regions, i.e. up to 3 mm.
You can download a high-resolution version of the poster as picture or pdf.
And we are happy to send you a paper print of this poster - please contact us at poster [at] toptica.com.